Cool moms: Lisette Lubbers
We are proud to present you the Cool Moms from Little Indians.
They have a great sense of style and know how to inspire other mothers.

This time Lisette Lubbers. Lisette photographs newborns, pregnancies and births like no other. She also blogs and films. Lisette is Scotti's mother!
Describe your style in 3 words:
Classy, ​​natural, mix & match.

What do you like about your city?
The peace, nature, greenery and the beautiful countryside. As a photographer, I love being in nature and because we live close to all kinds of beautiful nature reserves, we can enjoy it wonderfully. We regularly walk, cycle and take photographs. In addition to the peace and quiet, you will also find good restaurants and nice boutiques in the city. We live close to everything, so that makes an afternoon out very pleasant and varied.

What is your favorite moment of the day?
Can I also choose a favorite day of the week? That is Sunday, dad is free and in the morning the three of us wake up together. This is such a lucky moment! We usually have breakfast in bed and make fun plans for that day. It really is our day together, no work/phone or stress, just enjoying our family.

What is your favorite memory with your child?
Oohh what a tricky one! We still experience one surprise after another every week. Then suddenly another tooth appears, he bursts into laughter or he says daddy-pa-pa for the first time, all those moments make it difficult to choose. Still, I think I consider the recent moment when he saw young kittens for the first time as one of my favorites. He didn't know what he saw, and neither do we! We had never seen him so impressed by anything. He was so happy! I think you should have been there, it was such a cute sight.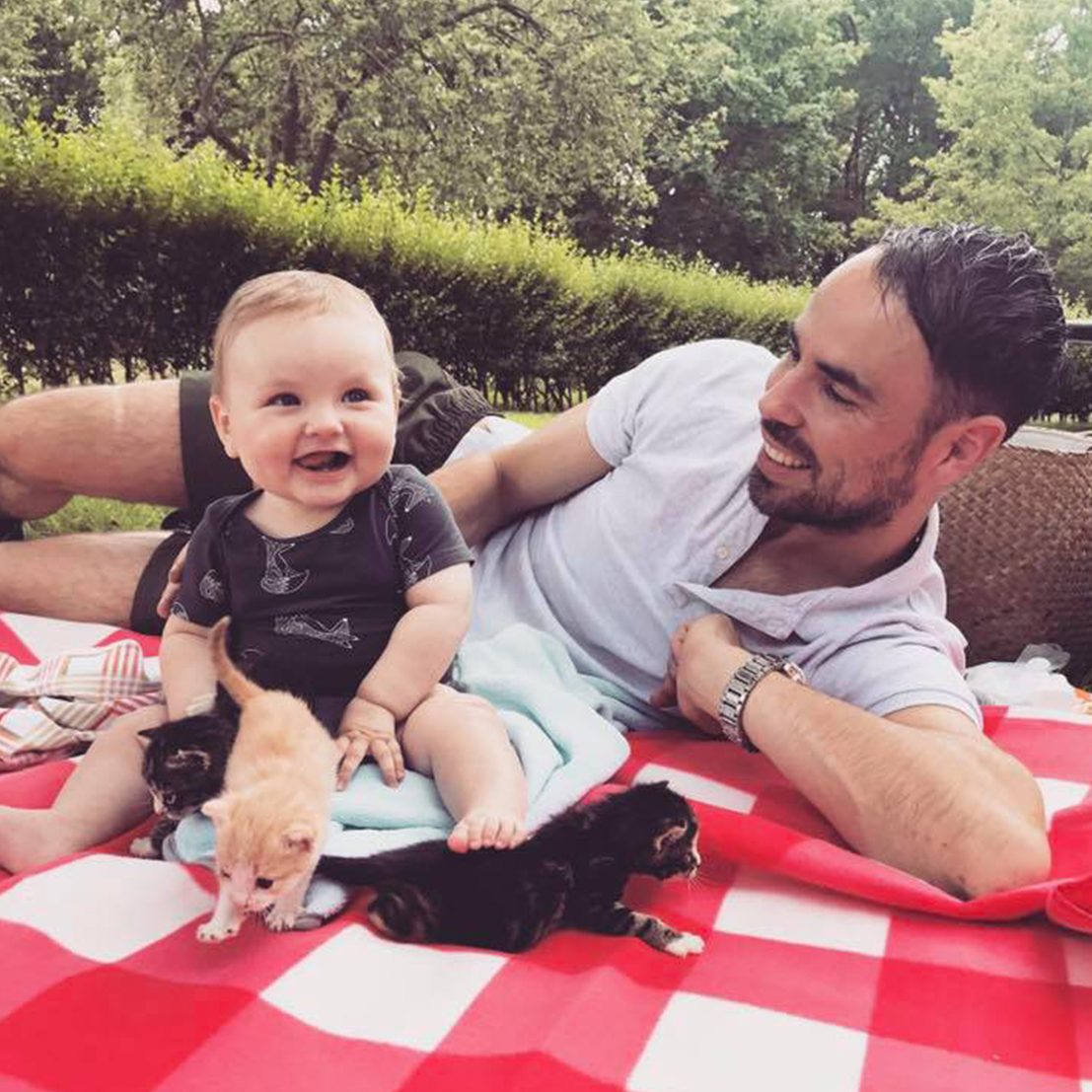 Choose your favorite:
• Coffee or Tea:
Tea!
• Heels or flats:
Difficult, flats are the most I wear... but I prefer heels. Whenever possible, I feel most beautiful on this. Maybe it also has to do with my height (1.66)? I think so. 
• Wine or cocktails:
Wine, but you can really wake me up at night for sushi.

What is your best holiday tip for other families?
The first time we flew with Scotti was such an exciting moment! He was 5 months old and we had no idea what to take with us. Until friends gave us the golden tip (!) to rent/buy a Prampack to take with us on a trip. Google it and you will see that it is a kind of suitcase in which you can often transport your stroller for free (with most airlines). This means your car remains undamaged and there is a lot of space in it to take all kinds of extras with you. We had packed in tons of diapers and we could still fit in all his clothes and toys.

What 3 things can't you live without?
My very best friend/partner/super dad in 1, family/friends and my camera.

What is your favorite item for your kids?
I think the memories I've already captured for him. I hope that when he sees all the photos and films of his first years again, he will feel the love that we feel now. It seems so nice to me that he can relive the moments that he will no longer be able to remember.

What is the best secret or tip you can give to other mothers?
In the beginning I was so incredibly insecure about how other moms were doing it and whether I was doing it all right myself. Over time I really learned that you only have to listen to your own feelings. Don't worry about how other moms do it, tips and stories, just do it your way. If you have a good feeling about it, you can't go wrong. Every mother wants the very best for her child, so you can't go wrong. Trust yourself and everything will be fine!
You can find the best tips here